The 52 Beats Producer Challenge
Jan 06, 2023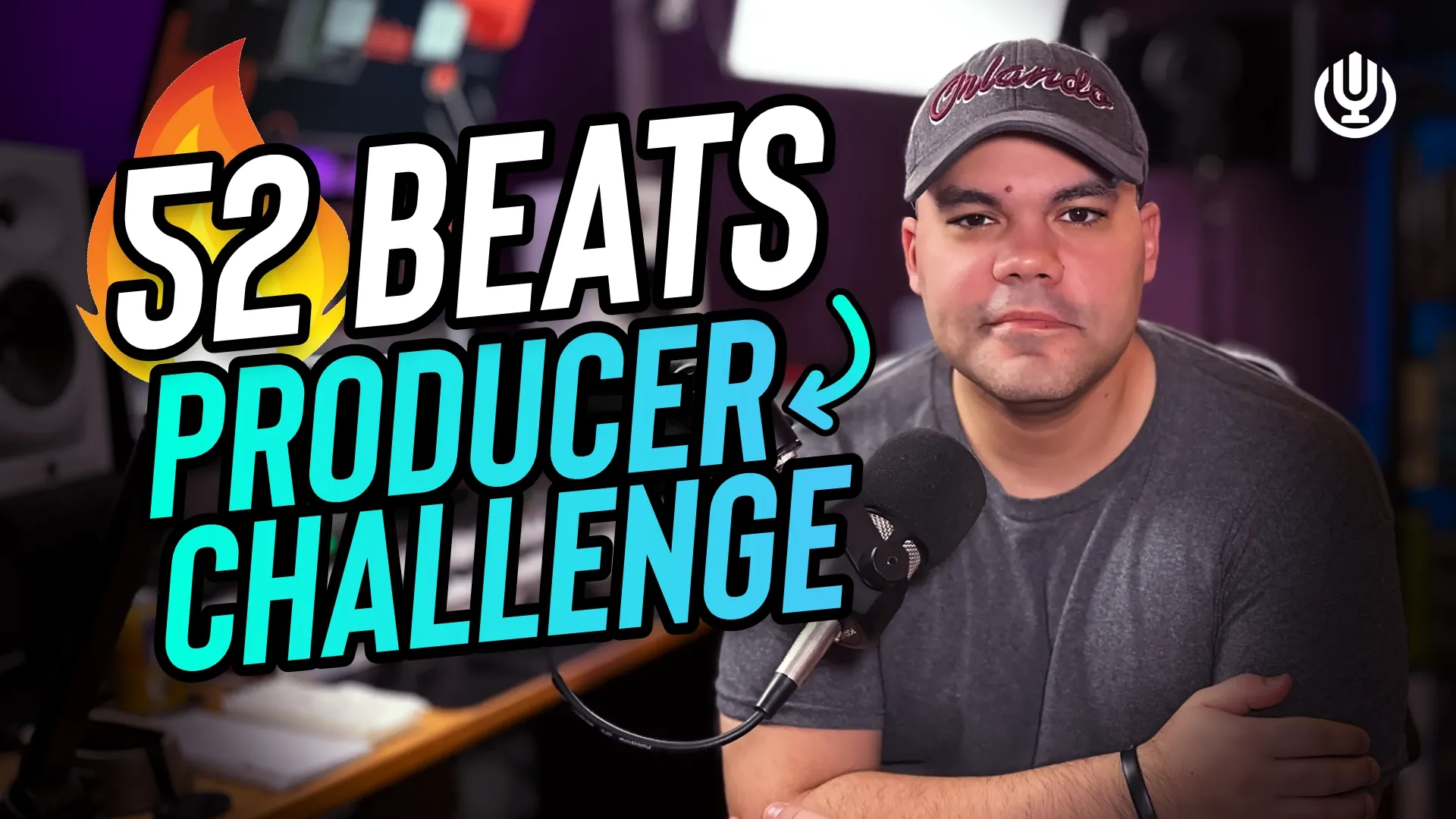 Orlando here with Elisha Record Studio, if you're new to the channel welcome, and this is technically my first video of the year 2023. Fun!
So, I was thinking, last year, I couldn't produce as much music and that felt like I was missing something. And frankly, between the plugin reviews and other tutorials, I was way too tired to do this. Also, I was sleeping late, barely waking up, and using my PS5 way too much.
Anyhow, I decided, that I would take a challenge, a personal challenge that would definitely push my limits. A challenge so hard that honestly, I'm regretting it already. But, no pain, no gain. So…
Welcome to the 52 Beats Producer Challenge! In this series, we'll be taking on the challenge of creating 52 beats in 52 weeks. That's one beat per week for an entire year! Are you up for the challenge? I already asked myself that in the mirror and I laughed at myself.
Well, look, there's no better way to push your creativity than build a consistent schedule and force yourself to make it happen, that's why I'm giving away a copy of Shaperbox 3 to one of you every time I miss a week of this challenge. So… if my math is accurate, that's $4628 worth of plugins at the $89 discounted price and almost 16K at the regular price… Oh boy, this was a big mistake.
Why Shaperbox 3? Well, because it's one of those plugins that will help me get through this challenge, plus an amazing creative tool for any producer.
Anyhow, if you're up for the challenge, I'll be posting new beats I create on my IG page weekly, and for those that I really really like, I will release them officially. So, if I miss a week, just DM me on IG (@orlandodalvarez) and I'll add those names and I will pick a winner live. Fair enough?
By the way, my wife knows nothing about this challenge so please don't tell her, she will be furious! Let's keep this to ourselves ok?
Join us as we push our production skills to the limit and see what we can create. I also like to invite you to join me and see if you can make it through all 52 beats yourself, this is great exercise whether you are a beginner or a professional producer. The goal of the challenge is to help aspiring music producers improve their skills, experiment with new production techniques, and build a solid foundation of beats for their music portfolio.
The challenge can be intimidating for some producers, especially those who are just starting out. However, it's an excellent way to develop your skills, explore new creative outlets, and push yourself to become a better music producer.
All you need is a computer or laptop with a digital audio workstation (DAW) and some basic production equipment, such as a midi controller or a drum machine. You can use any DAW you prefer, such as Cubase, Ableton Live, FL Studio, or Logic Pro.
Once you have your equipment set up, you're ready to get started. Each week, you'll create a new beat and share it with your community. This is the place for creativity, you can use any genre or style you like, and you're encouraged to experiment and try new things. Throughout the challenge, feel free to collaborate with other producers and work on new projects together.
The 52 Beats Producer Challenge is a fantastic way to improve your music production skills, and it's a great way to meet other producers and build your network in the music industry. If you're an aspiring producer, consider taking on the challenge and see how far you can go. So, this is a great opportunity for all music producers to improve their skills and create their portfolios.
Additionally, I want to include on this blog 5 productivity tips that helped me produce more music.
1. Set specific goals and deadlines for each project. Having a clear idea of what you want to achieve and when you want to achieve it will help you stay on track and avoid wasting time on unnecessary tasks.

2. Use project management software to organize your projects and tasks. I recommend Notion, it's a great tool that can help you stay organized and keep track of your progress.

3. Take breaks and prioritize self-care. It's easy to get caught up in the hustle and grind of producing music, but taking regular breaks and taking care of yourself will help you stay energized and focused.

4. Experiment with different workflows and techniques. Don't be afraid to try out new approaches to producing music, as this can help you find new ways to be creative and efficient.

5. Collaborate with other producers or musicians. Working with others can help you learn new techniques, get feedback on your work, and bounce ideas off one another.
I highly recommend the 52 Beats Producer Challenge to any producer looking to challenge themselves and improve their skills. It's a great way to kickstart your creativity and take your production to the next level.
Join our

Five Friday Finds

email community.
Get productivity tips, video tutorials, free plugins, the best deals on production tools, and more...
We hate SPAM. We will never sell your information, for any reason.